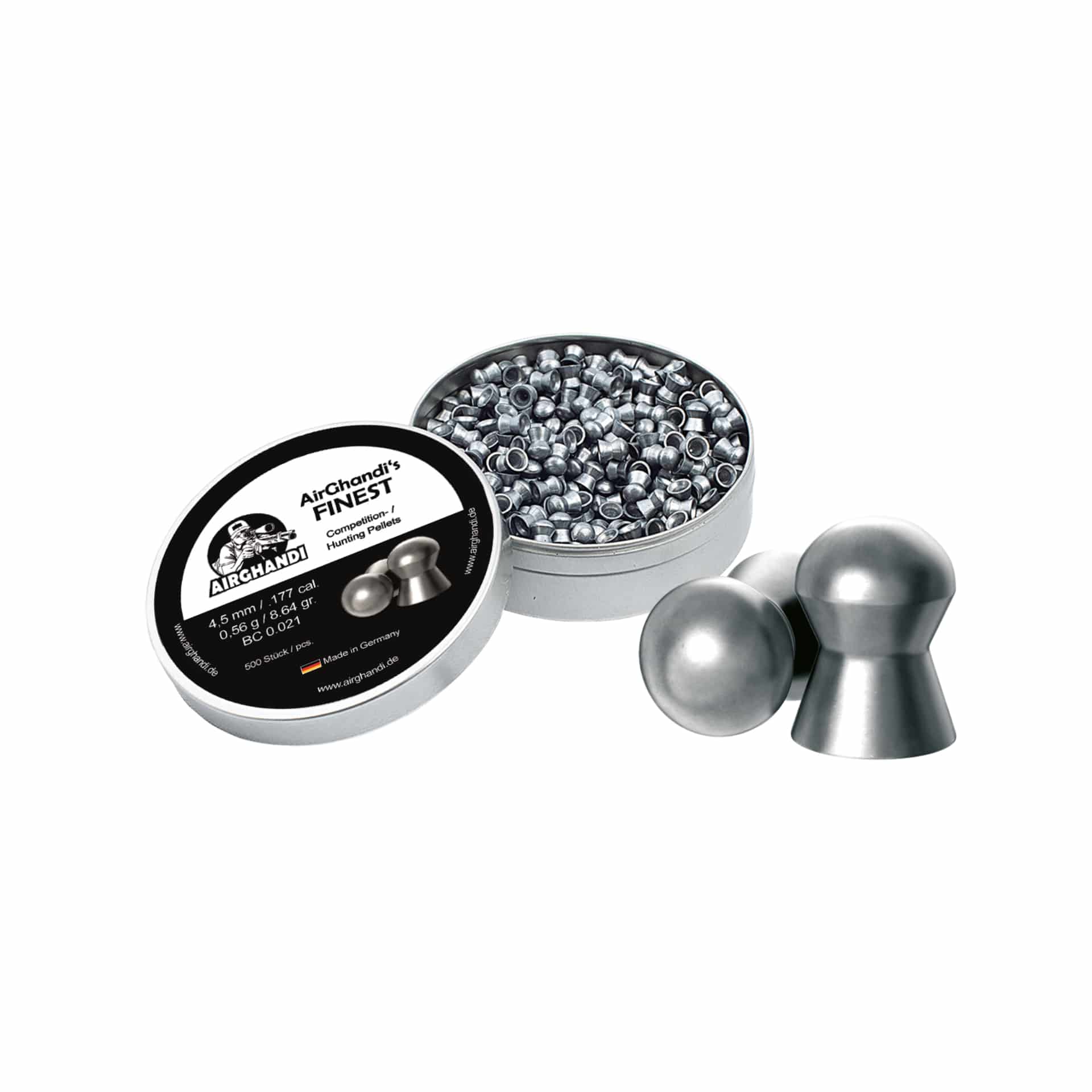 Available, delivery time 2-5 working days
Manufacturernumber:
300015
| | |
| --- | --- |
| Gewicht in g: | 0,56 (8,64 grain) |
| Kaliber in mm: | 4,5 (.177) |
| Shape: | Domed |
Product information "AirGhandi's Finest"
Airghandi says:
Anyone who wants to shoot a competition, or want to tickle the last one in the hobby and leisure area, will love this ball!
Product details:


500 diabolos per can
Weight: 0.56 g (8.64 gr.)
Caliber: 4.50 mm (.177 Cal)
BC: 0.021
For air pistols and air rifles from 7.5 J power
For distances up to 50 m
Made in Germany



Your advantages with the Airghandi & Acute; s Finest:


High-precision competition and hunting ball
Flat trajectory
Aerodynamic design
High punch
Closest firing groups
Lowest remains
Uniform shooting pictures
Packed in high -quality screw cans
 
---
Konstant hochwertige Qualität. Super genau, kann ich jedem Luftgewehr schützen empfehlen!
Super Diabolos für größere Distanzen! Ich schieße die Finest mit meiner HW97 und HW30S auf 20-30m. Geniale Trefferbilder mit sehr kleinem Streukreis. Hier stimmt Preis/Leistung👍
Super Diabolos ich habe damit bessere Trefferbilder als mit den H&N Field Target Trophy und den JSB Exact! Ich kann die Finest nur empfehlen
Bin echt begeistert wie gut die Diabolos sind, Schieße sie auf 30m mit meiner Hw44 und hab ein super Streukreis. Kauf ich wieder!
Bin total überrascht gewesen super schnell geliefert und top verpackt ! Über die Qualität müssen wir hier gar nicht Erst Reden! Die ist der Wahnsinn kaum spürbar so gute Diabolos geschossen!
Meine neuen all to go Standart Diabolos
Ich habe vor 3 Tagen meine ersten AirGhandi´s Finest geliefert bekommen. Heute 250 Schuss später kann ich nur sagen, nach vielem ausprobieren habe ich meine neue Standart Munition gefunden. Sie laufen in all meinen Waffen prima. Egal ob CO2 - oder Pressluft Revolver oder Langwaffe. Schussentfernungen scheinen den kleinen Teufeln egal zu sein. Gleichgültig ob 5, 10, 20 oder 55m ( das ist das Maximum auf unserem befriedetem Grundstück ) Immer wiederholbare Präzision. Geschwindigkeitszuwachs gegenüber Standart Flachkopf Diabolos ist enorm. ( Kann man akustisch bei 55m gut hören, Abstand vom Abschuss bis zum Einschlag im Kugelfangkasten. Aufgrund der Geschwindigkeit - habe leider kein Chrono - ist die Durchschlagkraft selbst bei 55m mit der Walther Rotex immer noch hoch genug, um einen 3mm starten Hartplastikblumentopf zu löchern. Der Aufdruck Hunting Pallets ist denke ich nicht so ganz unberechtigt. Preis Leistungsverhältniss für meine persönliche. Einschätzung hervorragend.
Habe die Diabolos gestern erhalten und gleich getestet, was soll ich sagen, unglaublich Präzise. Habe damit 22 Schuss auf einer Entfernung von ca. 22m auf eine Scheibe abgegeben. Das Loch, was später da war war nicht größer als eine 10 Cent Münze. Bei einem eher provisorischem Aufbau des Setups. Ich werde sie wieder kaufen und kann sie nur empfehlen. 👍🏻👍🏻👍🏻👍🏻
Ich hab Ne FX dreamline Lite 7,5 j Mit den Finest trefge ich endlich auf 15 m 5 Streichhölzer in Serie ohne Flyer, nach fast 3 Dosen nur 5 Stück aussortiert. Sehr gute Qualität und dadurch Konstanzes Schussbild
Moin Moin Ich habe mir etliche Videos in Sachen Diabolos angeschaut und bin dann auf die Videos vom Andi gestoßen. Um es kurz zu halten,die Finest sind top und haben die Präzision um einiges gesteigert. Ich schieße auf 27 Meter auf Kronkorken und ähnliche Ziele. Gruß Sven
Man sollte nicht kleinlich sein....
Zunächst muss man sagen das hier der Andreas an erster Stelle bewertet wird. Er hilft mit viel Herzblut, meldet sich zeitnah zu jeder, noch so ( kleinen ) oder fachlichen Frage. Sicher kann man diese Diabolos etwas günstiger einkaufen, andere Shops hier überhaupt ins Gespräch zu bringen, ist schon Blamage genug.... Zu den Diabolos selbst muss ich die bereits genannte Präzision unterstreichen. Sehr genau auch noch jenseits der 35 Meter Grenze (mit geeignetem Gewehr) mal ehrlich...? Für gute und kompetente Beratung bin ich gern bereit ein paar Euro mehr auszugeben.... Die Lieferzeit ist absolut akzeptabel zumal niemand Einfluss auf die Geschwindigkeit des Dienstleisters nehmen kann. Fazit Ich habe hier meinen online Shop (des Vertrauens) gefunden und kann meine uneingeschränkte Empfehlung aussprechen!! Mit den besten Grüßen... G. K.