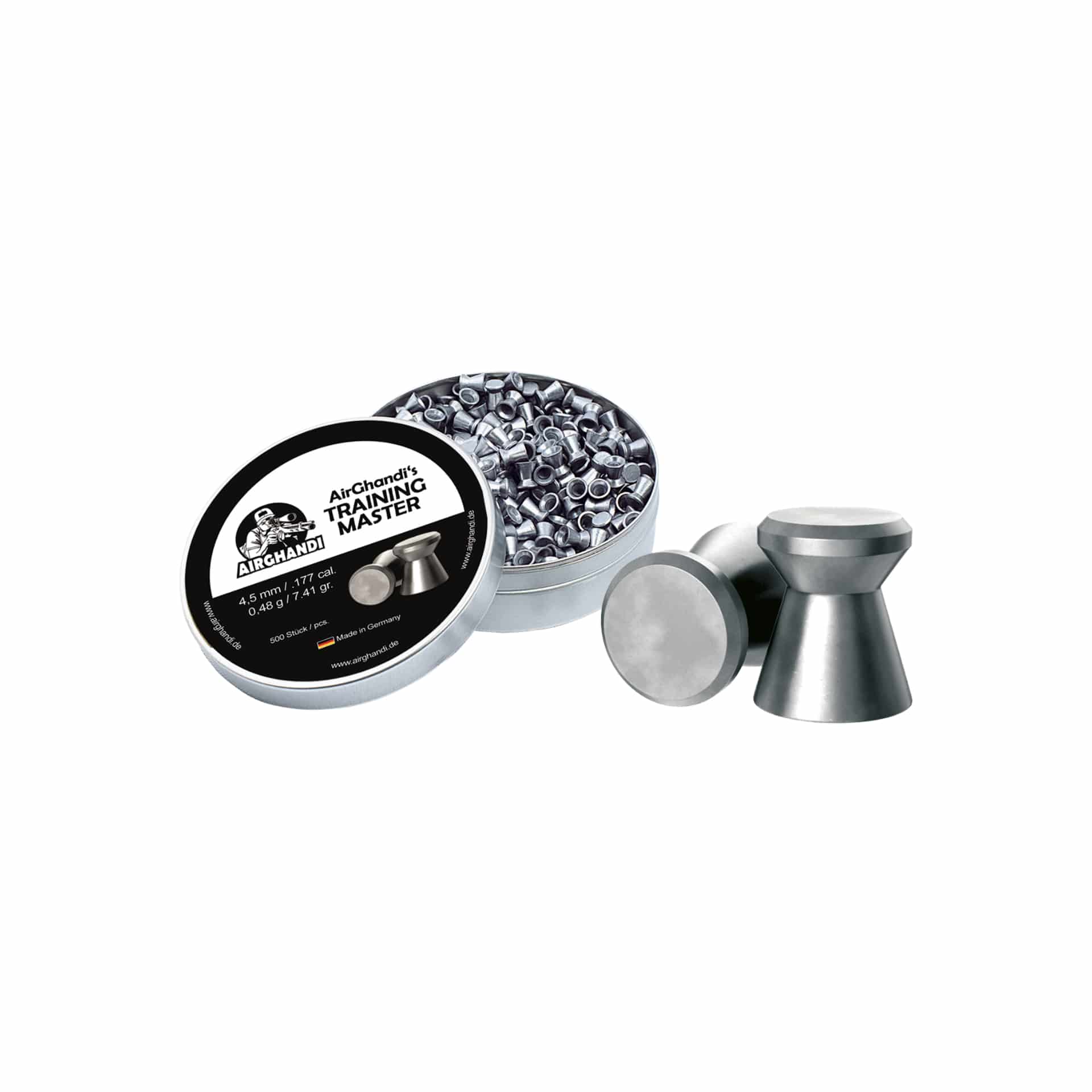 Shipping until , if you place your order within the next .
Manufacturernumber:
300016
| | |
| --- | --- |
| Gewicht in g: | 0,48 (7.41 grain) |
| Kaliber in mm: | 4,5 (.177) |
| Shape: | Flat |
Product information "AirGhandi's Training Master"
The Airghandi's Training Master are ideal for hobby and leisure shooters. The light and precise diabolos can be used universally. A can contains 500 caliber: 4.5 mm (.177 Cal.) Weight: 0.48 g (7.41 gr.) Made in germanyzum diabolo guide
---
Sauber verarbeitet, top Qualität, mega Preis-Leistung!
Sehr gut verarbeitete Diabolos! Habe direkt nach dem Erhalt testen müssen. Die Bedingungen: Leichter bis mittlerer böiger Wind von rechts. 10m Entfernung, 10 Schuss, Gewehr (Weihrauch HW77 mit Walther 4×32 Optik) auf Säcken aufgelegt. Was soll ich sagen?! Der Streukreis ist Super! 8mm von oben nach unten, 1,4 cm von rechts nach links, was allerdings vom böigen Wind kommt. Bei Windstille, oder Indoor wäre der Streukreis definitiv unter der 1Cent- Münze geblieben, daher ist nur der Wind schuldig und nicht die Diabolos. Die Verpackung war so, dass nichts hätte passieren können. Ausschuss gibt es bisher nicht und es sieht auch nicht so aus, als wären unbrauchbare dabei. Haptik und Passgenauigkeit sind auch absolut spitze. Es macht Spaß die Waffe damit zu laden und zu schießen! Die Diabolos sind nur zu empfehlen und ich werde sie wieder kaufen! Als Tipp: Am Besten für den Innenbereich, oder bis nur leichtem Wind nutzen, da sie bei Wind doch etwas zu leicht sind. Preis Leistung überirdisch gut! Gäbe es 6 Sterne zu vergeben, ihr wisst bescheid... ;)
Top Diabolos, super Treffsicher , kann ich nur Empfehlen, habe schon viele getestet, baer ab diese kommt so schnell nichts ran. Gruß Herbert
Werde nur noch die Kaufen !
Bin tatsächlich überrascht! Erstens wie gut sie sind und wie diese verpackt waren viel sorgfältiger und durchdachter als Bei manchen anderen online Shop ! Kann Ich echt nicht nur mir selbst empfehlen. Ich habe sie Grad. Frei Schnauze voll aus der Hüfte geschossen mitten ins Bullei Mega Andi der Hammer ?
Passgenau und gut verarbeitet
Hab mir die TM zum Plinken für meinen Colt SAA Co2 Revolver besorgt. Ich hab einige diverse Diabolos und muss sagen, dass die TM exakt passgenau und präzise damit laufen. Mir sind auch keine verformten oder werkseitig unterschiedliche aufgefallen in der Dose. Daumen hoch! Top Produkt.
Sehr ordentlich ..... *kaufdas
Habe jetzt gut ein halbes Döschen in verschiedenen Modellen (HW75, HW45, Diana Bandit, Air Magnum und 2002 SuperAir) durchlaufen lassen. Egal ob Vorkomprimierer oder Federspanner, starkes Modell oder soft, die Dinger funktionieren! Sauber verarbeitet und sehr passgenau. Auch auf verschiedenen Distanzen (6m, 10m, ca. 17m) halten sie die Flugbahn. FAZIT: Fairer Preis, saubere Verarbeitung *kaufdas
Die Diabolos sind sehr gut verarbeitet. Passen gut für Einzelschuß oder Magazin.Kein Klemmen oder Hakeln .Sehr hohe Treffgenauigkeit. Vg Sascha
Diese Diabolos sind im Großen und Ganzen in Ordnung! Aber: es sind am Ende doch nur die H&N Excite Econ II, Flachkopf Diabolo, glatt, 0,48 g, Kaliber 4,5 mm, 500 Stück - und diese gibt es bei vielen Händlern um einiges günstiger - beim SCHNEIDER zahlt Ihr dafür aktuell 2,95€ für eine Dose - bei 11 Dosen sind es nur 2,68€. Aber wer den ANDI unterstützen möchte, sollte diese Dias hier KAUFEN ;-).