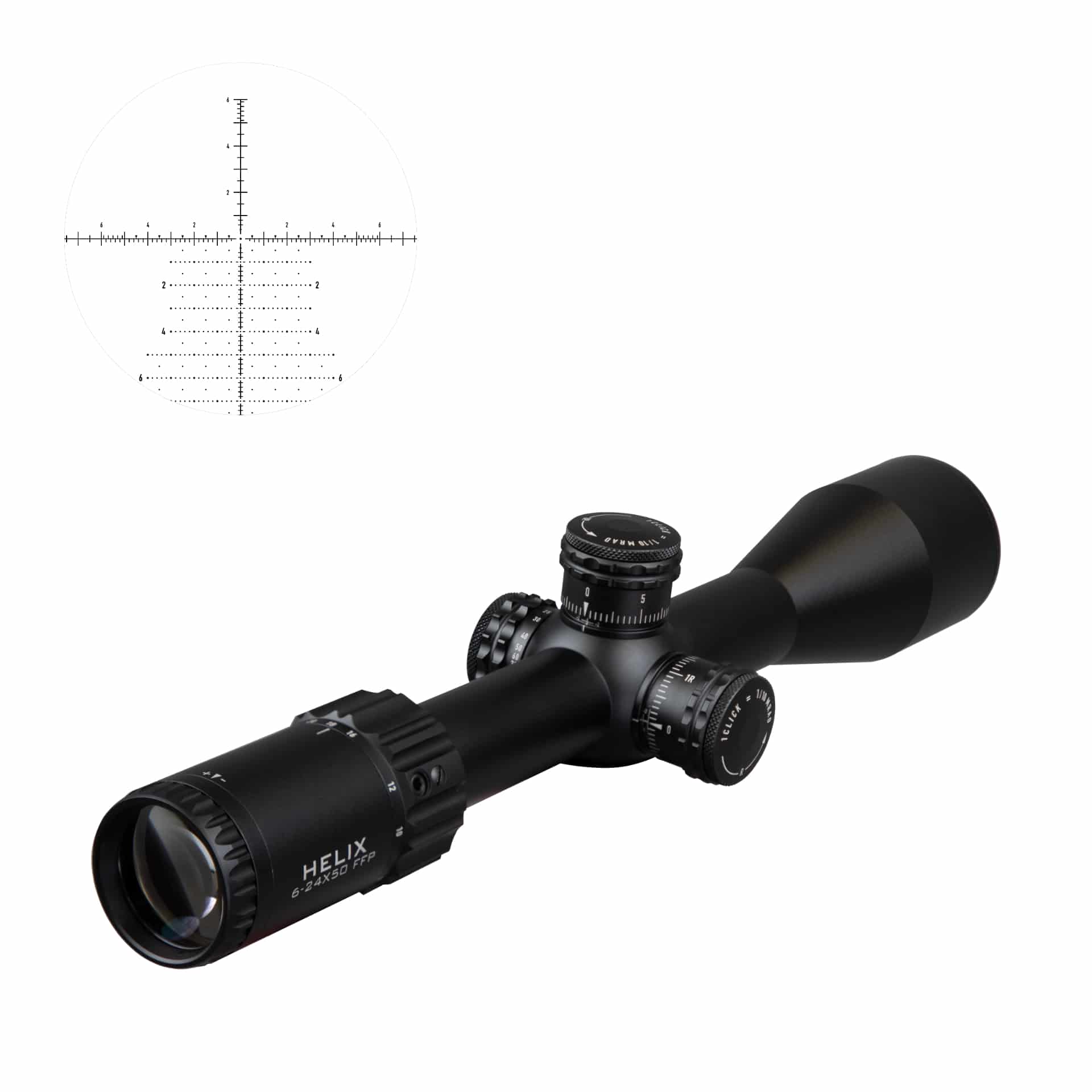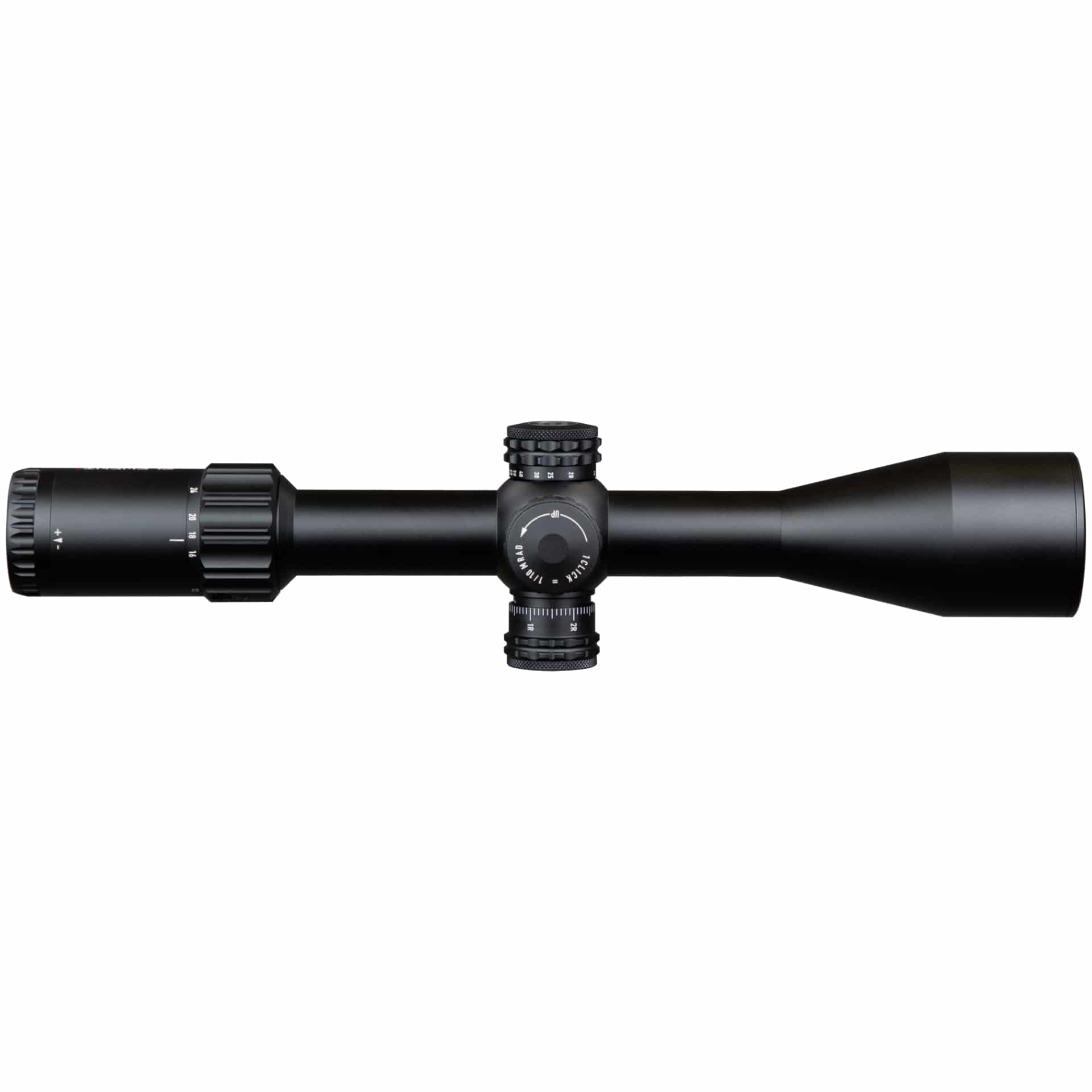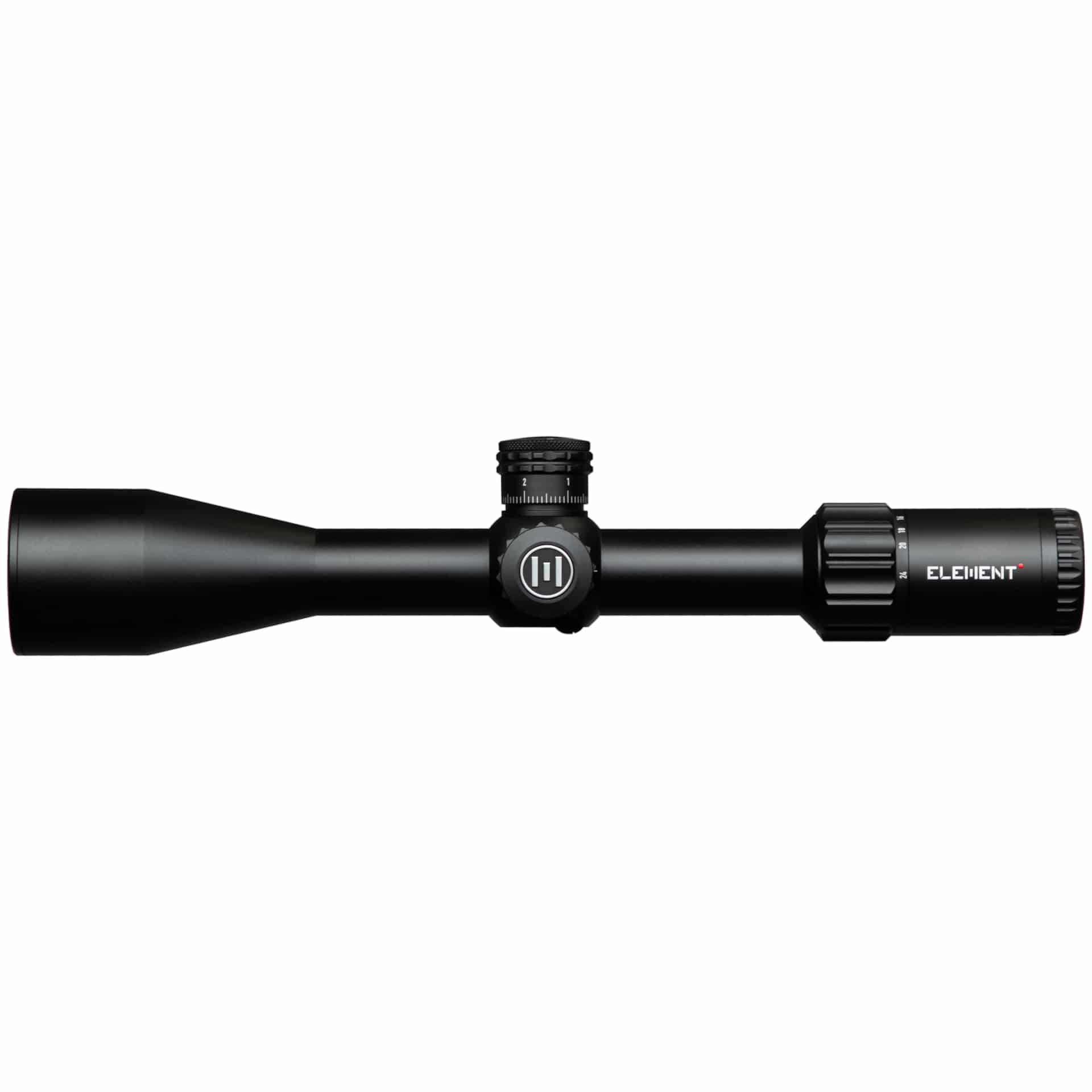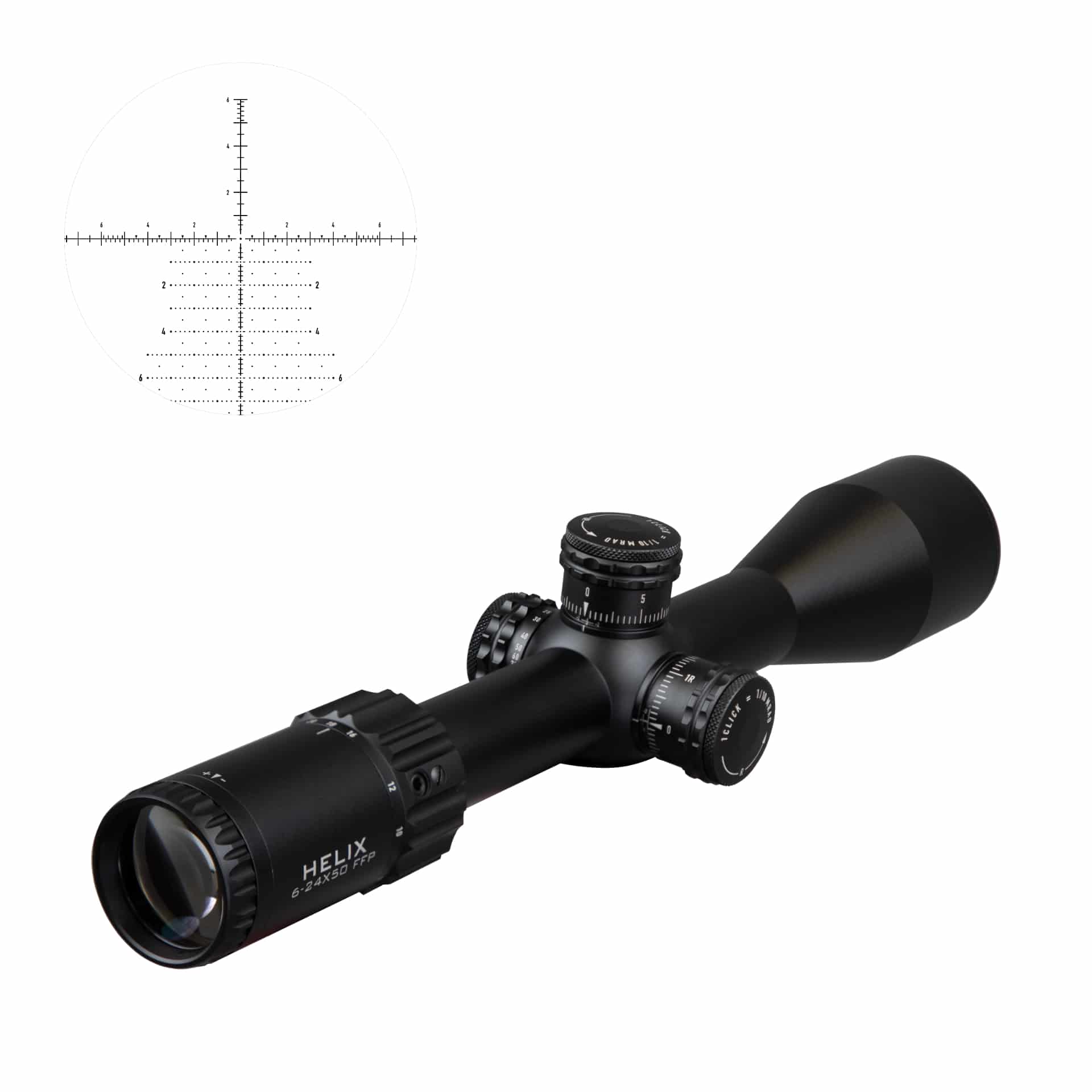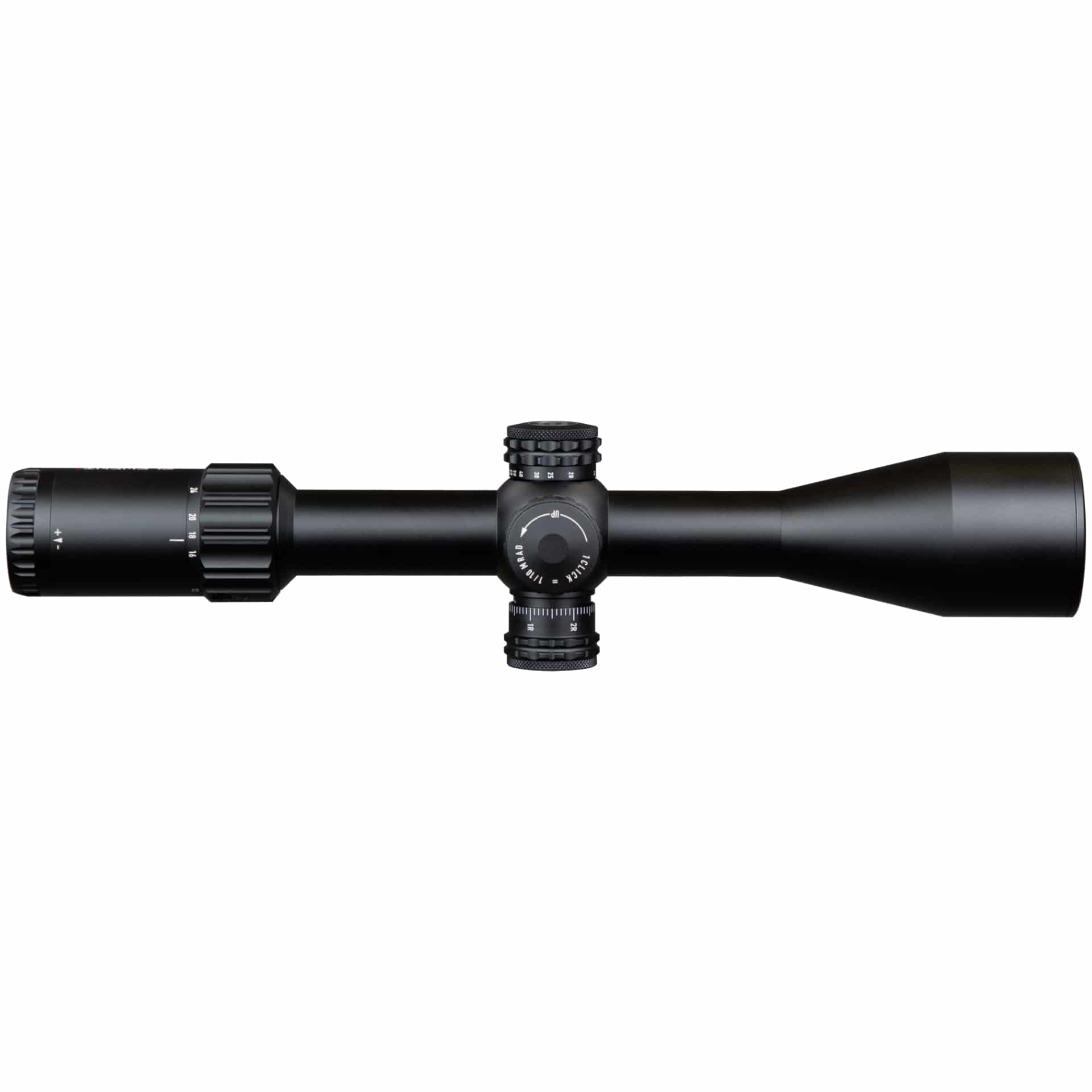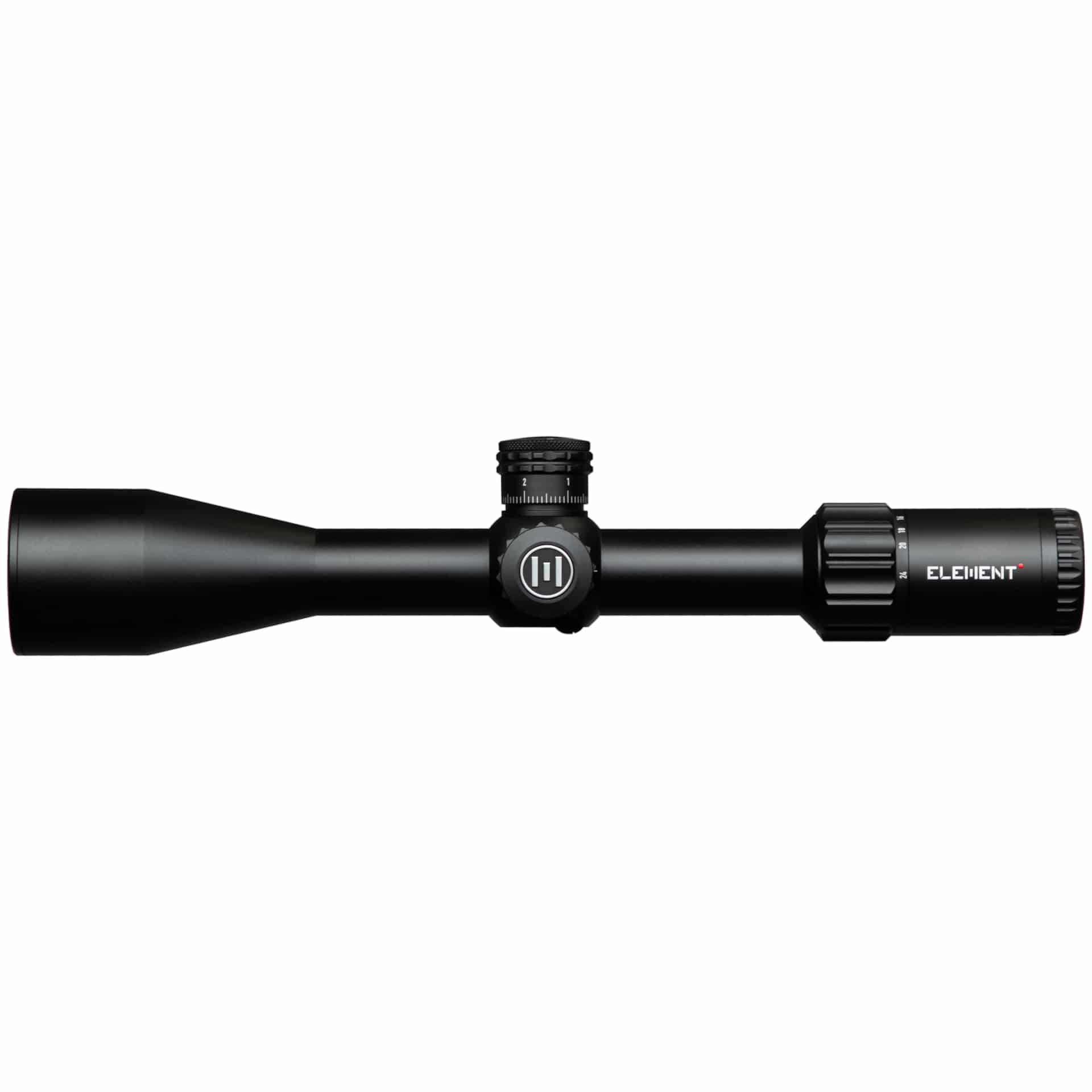 Shipping until , if you place your order within the next .
Manufacturer:
Element Optics
Manufacturernumber:
50044
| | |
| --- | --- |
| Closest focusing distance (m): | 9 |
| Elevation Increment: | 1/10 MRAD |
| Focal plane: | FFP - First Focal Plane |
| Illuminated: | No |
| Length (mm): | ab 350 |
| Lens diameter (mm): | 50 |
| Magnification: | 6 - 24 |
| Product line: | Helix |
| Side wheel: | Yes |
| Tube diameter (mm): | 30 |
| Weight (g): | ab 700 |
Product information "ELEMENT Helix 6-24x50 FFP APR-2D MRAD"
ELEMENT Optics helix 6-24x50 FFP APR-2D Mrad
Airghandi says:
Since my video about the element Helix, many customers have been convinced of the outstanding quality and the price/performance ratio. The grip and setting options of the different towers have to be found out."

Are you looking for a rifle scope that meets the highest requirements without blowing up your bank account? Something that can also prevail against higher -priced products?
When producing the helix, what is most important was prioritized: clear glasses, clever refraining from, innovative functions and an excellent tower system. Our tower system has been improved beyond the standard sports target scope and has internal parts made of rust-free stainless steel to protect it from wear and tear if one often uses it & ndash; What modern sports disciplines are asking for these days. The towers can be adjusted without tools, including the zero stop, and give you high -end functionalities without overloading the wallet. If desired, you can also use the 24x for the calibration for 12x and 6x, provided a few basic mathematical ability, of course. In the manufacturing process there are several quality controls to give you security with your next 1000 yard shot.
Highlights:

30mm housing
Compact, light design
Forget at the first level
Aviation-compatible aluminum
Page parallax: 9.1m - & infin; / 10yds - & infin;
Completely multi -coated lenses
Towers with 6 mrad / 15 MOA per revolution
Mechanical zero stop
Removable magnification lever
Waterproof
Foggy
Shockproof
Nitrogen -washed
Sun visors, lens cloth and rubber lens caps contain


Technical specifications:



Enlargement:
6-24x


Case diameter:
30mm


Linse diameter:
50mm


Extry pupil:
9.1-2.2mm


Pupillary distance:
93.98mm-101.6mm / 3.7-4 "


Viewing field:
18.3-4.6ft @100yds


Increasing step:
1/10 mrad (6 m wheel per revolution)


Height adjustment range:
18.9 Mrad


Windage setting area:
11.6 Mrad


Minimal parallax:
10m / 10yds


Length:
363mm / 14.3


Weight:
737g / 26oz
Videos
---
Das Helix ist im Punkto Preis- Leistung fast unschlagbar. Die Wertigkeit spürt man spätestens beim Anfassen. Super Qualität. Auch die lebenslange Garantie spricht Bände. Deshalb hab ich mir auch für meine zweite Waffe erneut das Helix gegönnt.
Ich hab Andi damals angeschrieben, ich suchte eine ZF für Longrange und hatte noch keine Ahnung, abgesehen davon das das Helix ein sau geiles einstellbares ZF ist, fand ich die Beratung von Andi und seine Tutorials sehr hilfreich. Hab die richtigen Montagen dazu empfohlen bekommen und super Ergebnisse geschossen. Danke Ich spare schon und hoffe irgendwann aus das Titan :-)
ELEMENT Helix 6-24x50 FFP APR-2D MRAD
Bin über das YouTube-Video von Andi auf dieses Glas gekommen, geniale gestochen scharfe Optik mit unschlagbarem Preis-Leistungsverhältnis. Ist mein Erstes mit Absehen auf der ersten Bildebene... und ich bin davon total begeistert. Auch vom Aufbau und den Features einfach super.
Vorab erst einmal einen Dank an Andi richten, der mir mit seinen Videos und den beantworteten Mails zum Kauf des ZF geraten hat. Wie er aber auch schon selber sagte, das einzige Manko an dem ZF ist die fehlende Beleuchtung. Ich habe das ZF im März erhalten und kann nur sagen, das ZF ist echt klasse, hat ein sehr klares Bild und gute Sicht. Das ist nicht nur auf 10m so, denn ich habe mit dem auch schon 25 und 50 Meter geschossen.
Hab länger mit dem Gedanken gespielt das Helix zu kaufen ist ja nicht grad billig. Den Anstoß habe ich aus Übersee , Youtube ist da ja voll mit Videos. Alles gequatsche dachte ich erst, dachte ich bis heute. Vor paar Tagen kurz mit Andy geschrieben , dank seinem anstubser hab ich nun auch eins. ?? danke dafür Auspacken ging ganz fix , Karton aufgerissen und dann wooooow Erstmal durchgeschaut hmm Parallaxe eingestellt ok Die Vergrößerung getestet jepp Die Verarbeitung ist perfekt , das absehen besser als ich es von anderen Gläsern kenne. Das Absehen gestochen Scharf und Sauber egal welche Vergrößerung , und der Sound vom Klick der Türme im Original hört er sich besser an als im Video bei dir ? . Frage mich warum ich nicht schon früher eines geholt habe , Andy sei mir nicht böse ich behalte es , du hast ja sicher noch paar da. Danke für deine Beratung und den Anstoß in die richtige Richtung. Wird nicht das letzte mal gewesen sein das ich dich um Rat frage. Perfekt mach weiter so ??
Das mrad FFP ist super, nicht gerade günstig, aber 60 Euro Aufpreis für das FFP lohnt sich richtig. Endlich deutsche Maßeinheit. Das Video ist wie viele super gemacht und sehr informativ. Ich danke dir Andi. Weiter so!
Element Optics Helix 6-24x50 FFP
Geniale Optik!! Gefällt mir besser als mein Hawke. Die Haptik ist sehr gut. Das Absehen ist zwar nicht beleuchtet aber das muss es auch nicht. Alles fühlt sich sehr wertig an und das Absehen in der ersten Bildebene ist gestochen scharf! Lebenslange Garantie- für den Preis ein absolutes "must have"!